Dhanteras Shubh Muhurat timing 2019: The festival of Dhanteras is celebrated on the Trayodashi date of Krishna Paksha of Kartik month. Dhanteras is the first day of Maha Diwali lasting five days. This time on 25 October, Dhanteras. It is believed that Lord Dhanvantari was born on this day. Lord Dhanvantari, born during the Samudra Manthan, had an Amrit Kalash in his hand. There is a tradition of shopping utensils on Dhanteras and it is said that every person who brings new things to the house on this day has increased by 13 times. On the auspicious day of Dhanteras, new things should be purchased. On this day, utensils, gold and silver items are purchased the most.

advertisement

Why do we celebrate Dhanteras?

Deepawali starts with Dhanteras. According to beliefs, many things were born in the month of Kartik at the time of Samudra Manthan in which Moon was born on Sharad Purnima, Kamadhenu cow on Dwadashi Tithi, Lord Dhanvantari on Trayodashi Tithi, mother Kali on Chaturdashi and Lakshmi Mata on Amavasya. Dhanteras is celebrated on the Trayodashi date when Dhanvantari appears with the nectar of the urn.
Which Gods are worshipped on Dhanteras

Lord Dhanvantari, Mata Lakshmi and Kubera are worshipped on Dhanteras. Buying gold and silver on Dhanteras is considered very auspicious. Worshipping Lord Dhanvantari on Dhanteras also gives relief from many diseases as Lord Dhanvantari is considered to be the father of Ayurveda. For the sake of health, remember the Yamdev on the main door of the house and place a south-facing grain etc. and install a lamp on it. Dhanwantri was the one who discovered Amritamay medicines for public welfare. In his dynasty, Sushruta, the son of Maharishi Vishwamitra, who was the father of surgery, Vishodamitra, was his disciple, who composed Sushruta Samhita, the greatest text of Ayurveda.

Dhanteras mantra

To the householders during the same period 'Om Namo Bhagwate Dhanvantarai Vishnurupaye Namo Namah. The mantra should be worshipped by Shodashopchar method. On the day of Dhanteras, the god of death, Yamraj is worshipped and in the evening lamps are lit on both sides of the main door of the house.

On this Dhanteras, worship Lord Kubera, there will be money and business benefits: 25-October-2019

Dhanteras Shubh Mahurat Aur Panchang

Dhanteras date - 25 October

Trayodashi Date Starts - 7:00 pm to 8 minutes

Trayodashi Tithi ends - 26 October at 3.36 pm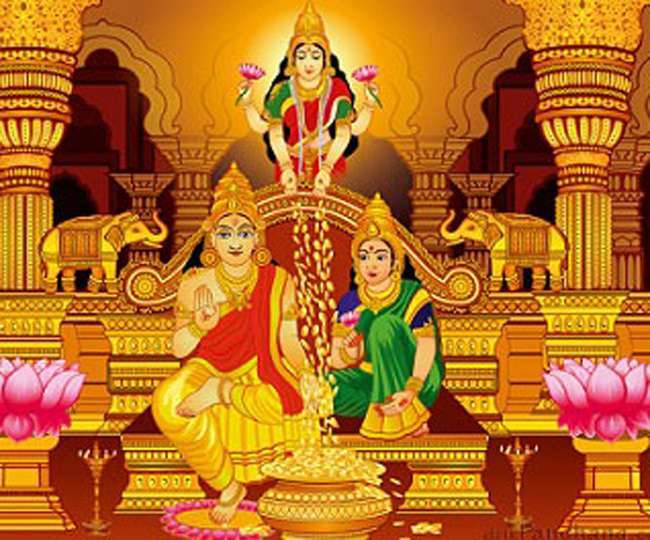 Dhanteras Puja Muhurat - 25 October 2019

Evening 7. 08 minutes to 08. 14

Pradosh period - 05.38 minutes to 08.13 in the evening

Taurus Period - Evening 06.50 mins to 08.45 mins

Auspicious time for shopping on Dhanteras

The auspicious time to shop on Dhanteras will be from 6.43 pm to 7.8 pm.

Buy these things on the day of Dhanteras

Buying items made of gold, silver, brass, steel on Dhanteras is auspicious. Buying these things gives the grace of mother Lakshmi. It is believed that buying a broom on Dhanteras is believed to be very dear to the broom mother Lakshmi.