Bollywood actor Vivek Oberoi came into controversy on Monday when he mocked him by tweeting the picture of Aishwarya Rai. Following his tweet, he was criticized on social media. Now the news is that Vivek Oberoi has removed his tweet and apologized. Vivek Oberoi has a tweet in this regard. He has tweeted that if any woman feelings got has hurt because of me, I apologize and remove my Twitter. Vivek Oberoi had a tweet by adding a picture of Exit Poll and Aishwarya Rai which went viral.
In this case, woman commission, on Monday, issued a notice to Vivek Oberoi, for criticizing Aishwarya Rai including actress Sonam Kapoor, DCW chief Swati Maliwal. On this, Vivek Oberoi had said on Monday that when I did not do anything wrong, then what apology? Vivek Oberoi told the news agency ANI, "I have no problem in apologizing, but tell me what have I done wrong?" If I have done something wrong, I will apologize, I do not think I have done something wrong. "Tell me, the 'Meme' shared by Oberoi divided into three parts Opinion Poll, Exit Poll and Result (results). Aishwarya is seen in the Opinion poll with Salman, along with Vivek Oberoi in the exit polls, and in the sequel, she is seen with Abhishek Bachchan and Aaradhya.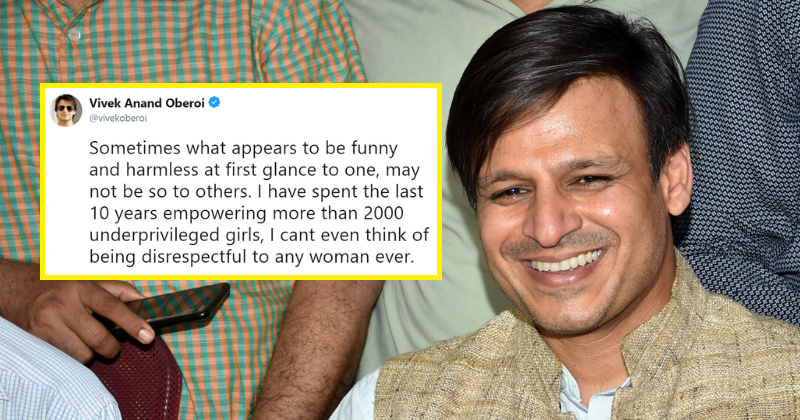 National Women's Commission issued a notice to actor Vivek Oberoi for posting Meme on Twitter linked to the famous Aishwarya Rai. In a notice issued to Oberoi, the Commission had said that he should give satisfactory explanation on the offensive and anti-female post. He said, "Through various media medium it has been found that you post a humiliating and anti-female post about a woman (Aishwarya) and a child (Aaradhya) on the tweet. It has been said in the news that you compare the trivial nature of election results and the personal life of a woman".
In the picture that was shared by Vivek Oberoi, Aishwarya Rai and Salman Khan, Vivek Oberoi and Aishwarya Rai in the second photo and Abhishek Bachchan and Aishwarya Rai were shown in the second photo. And it was linked to the novels of Exit Poll.