Actress Kareena Kapoor Khan walked on the ramp at Lakme Fashion Week with her baby bump. It was the most "remarkable" moment for Kareena.
"It would be a walk to remember for her as she and her baby took to the ramp together for the first time", Kareena said.
"I am not supposed to be a doll": Kareena Kapoor Khan
The 34-yr old actress was the showstopper for her designer Sabyasachi. She showcased his latest collection that brought the curtains down at the Lakme Fashion Week Winter/Festive 2016.
"I must say it's not one but two of us. It's a very special moment. I have never walked for Sabyasachi before, we were not able to do a film together. But this moment is very special," Kareena added.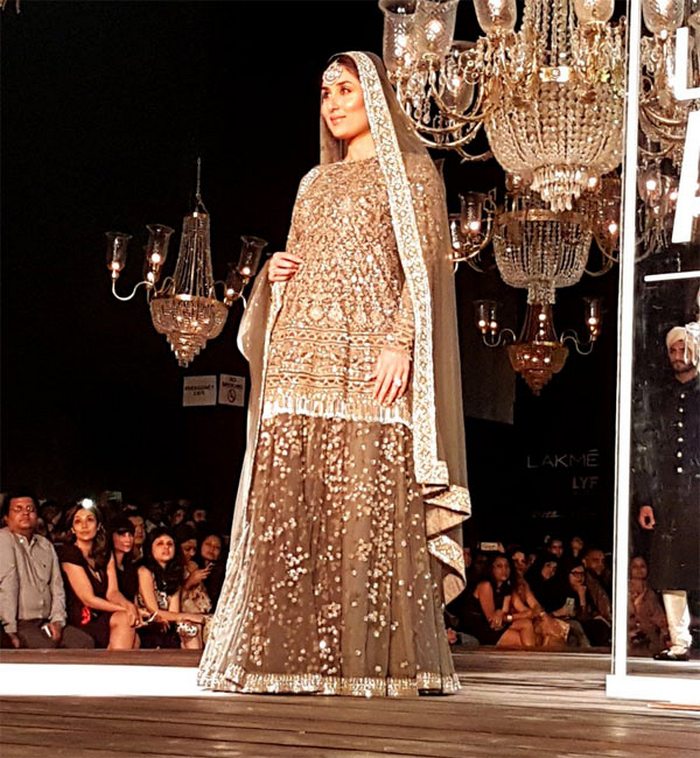 "It's going to be in the history. I am actually very emotional right now. It is a moment I want everyone to cherish. I would like to say Sabyasachi is not a designer he is an artist. He creates painting. I am really honoured to wear this artist," Kareena said.
Kareena donned a heavily embroided olive green lehenga and a kurti patterned choli with dupatta on her head. She had also worn beautiful maang tika through which her looks got more beautiful.
When asked whether the baby kicked you while walking she said, "I was too nervous to realise if it happened."
The actress was appreciated in the industry as her pregnancy did not come in between her work. She said, "It will never go away from the camera."
"I have always maintained that I work till I die. Acting is my passion. My work is my passion and as long as I am working it makes me happy and that joy shows on face. I am going to continue working." She said.
Kareena Kapoor was also praised for her attire which was designed by Sabyasachi.
"It is pleasure to walk for him. He works magic with his masterstroke. Even my mother-in-law is a huge admirer of his work," she said.
"This time around I wanted to create few dresses. I decided to make some short evening wear, but kept the Indianess alive with my signature work. I can't leave that as it is the essence of my brand. I am an Indian designer and I can never let that go away from myself," Sabyasachi told PTI.
Kareena's sister Karishma Kapoor also attended the event. Karishma clicked pictures with Kareena Kapoor and applauded her throughout ramp walk.