There is no limit of nail art on your fingernails, but now you can also decorate your toe nails with so many stylish nail arts. It is easy to paint your toe nails as you can use both the hands. Nail arts in salon is easy to get but, you can also experiment these toenail designs by your own.
Quick Remedies For Bleeding Pimple!
Lace themed nail art-
Black and white nail art is forever love. You can never go wrong with black and white nail polish on your toenails. Put a base coat with either black or white nail polish. Let it dry. Now place a frilly lace on top of the base coat. The, paint over them with alternate color nail polish. Let it dry again. You can also add a jewels on it to make it more sparkling.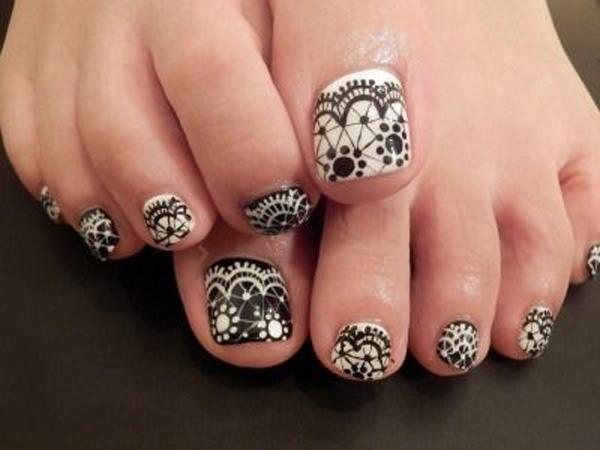 White and bejeweled-
White color nail polish goes with every outfit you wear. You can make it look more elegant by adding some jewels to it. Place some gemstones in the corner of your big toes in any shape. And you are ready to turn many heads!
Eccentric look-
Eccentric design is made of blue, black, and melon shades in one. Put blue and melon colors on your toe. Separate these two colors with a black nail polish by adding some black circles along its length. Use white nail polish to add some dots on your blue nail polish. Apply a top coat on your nails to protect them.
Blue floral-
To show this nail art, Summer is the perfect time. Use some silver or nude nail polish as the base color then paint blue flowers on top. Add big flowers on your big toes and also you can place a jewel on each of your toenails.
Quick Remedies For Bleeding Pimple!
Matte blue-
You can choose matte colors also to paint your toe. Use a matte blue nail polish as the base coat. Then, add some jewels to it to catch the eyes.
Candy pop-
Color your toe nails with candy colors like is yellow, orange, pink, and green. Paint one foot with alternating yellow and orange while other goes with pink and green. Then paint the big toe of the foot that has yellow and orange in pink then add some fun bubbles on it in yellow and orange. Paint the other big toe in yellow then use the pink and green shades for the circles. Top coat should be last to seal in the colors and you're done.