Today is the 75th commemoration of the Quit India development. Union priest Venkaiah Naidu said last Tuesday that the NDA government would celebrate August 8, 1942 – the day on which the Quit India development was dispatched – by sending more than 75 pastors to destinations the country over to "revive the soul of patriotism" among Indians, and help the country's childhood to remember the penances made by flexibility contenders.
Here are five photographs of the Quit India development that serve to help us to remember an imperative period amid the decades-long battle that lead to Indian's freedom.
1. Do or Die
On August 8, 1942 – precisely 75 years prior to the day – Mahatma Gandhi told a group at the Gowalia Tank Maidan in Bombay, "Let each Indian see himself as to be a liberated person." It was the well known 'Do or Die' discourse that dispatched the Quit India development, or the Bharat Chhodo Andolan – the last major common rebellion development composed before India turned into a sovereign country in 1947. The precise following day, Gandhi and other conspicuous Congressmen were gathered together and imprisoned.
2. Lathi Charge
After Gandhi's and other pioneers' captures, there were challenges crosswise over India for a while, and large portions of them were savage. In this photograph, police lathi-charge a gathering of dissidents.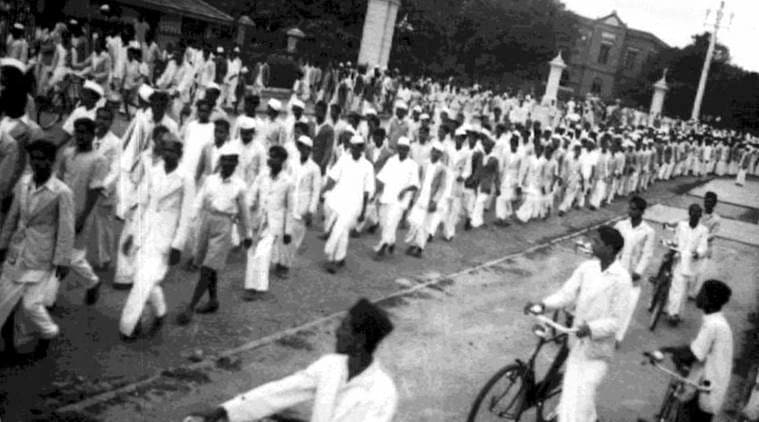 3. Burning foreign-made goods
The Quit India development was the last major common noncompliance development sorted out before India turned into a sovereign country in 1947. In this photograph, flexibility contenders can be seen blazing remote made merchandise in dissent against the Raj.
4. A dharna
In the mid 1940s, the Raj was turning out to be progressively disliked in the Indian sub-landmass, particularly on the grounds that India had been compelled to take part in the bloodiest equipped clash in mankind's history – the Second World War, Moreover, the Cripps Mission – sent to India in March 1942 to guarantee the Congress that India would be given Dominion Status after the Second World War finished – had fizzled. Gandhi had broadly called the offer "a post-dated keep an eye on a smashing bank."