One of the changes that come with puberty in a woman's body is the beginning of the menstruation process.  This process involves monthly discharge of blood and mucosal tissue from the lining of the uterus to the vagina. There are some women who get to experience it earlier or later, while most women get to experience their first menstrual cycle by the age of 12 to 14. In the beginning, the colour of the periods tends to look bright red which turned into brownish or black when the periods come to an end. Since two women's flows are not identical, this situation doesn't happen with everyone. A woman undergoes a lot of hormonal changes which can cause her period blood look to change from month to month. This is why the menstrual cycle of every other girl in this world is different from another. Same the colour of their menstrual blood varies from one another.
Want to get rid of health problems? Check out Benefits Of Tamarind (Imli)
You are pregnant or not, the colour of your period blood not just tells this only, but it also gives you a better revelation about the state of your hormone health. Read out these six things that the colour of your period blood tells you about your health to get a proper insight:
Pinkish colour of your period blood tells that there is a great chance that you are dealing with low estrogen levels. People who indulge into excessive exercise (just like professional athletes) have lower estrogen levels, according to study. Low estrogen levels may even increase the chances of Osteoporosis if left untreated. With low estrogen levels, poor nutrition, perimenopause or polycystic ovary syndrome could be another reason of a pinkish flow.
2. There is a great chance that your uterine lining is shedding out of your body if you observe that the colour of your period blood is dark brown. It isn't a big problem since it is absolutely normal. This happens normally when your blood is sitting around for a while and comes out particularly slowly. It takes a lot of time to oxidize, which is why it can appear to be brown or almost black. Also, no two women will shed their uterine lining at a similar rate.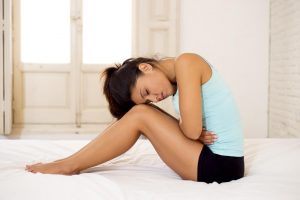 3. The thick, jam-coloured red with clots colour of your period blood means that you are dealing with low progesterone levels and high estrogen levels. This is a sign of serious hormonal imbalance. You can try to balance it by reducing your consumption of dairy, soy and sugar. Clotting is normal but only to an extent. Large clots tell about the higher the risk of hormonal imbalance. Other than hormonal imbalance, Uterine Fibroids could be another reason of a thick, jam-coloured flow with clots. Though, they are most often gentle but can turn out to be painful at times.
4. If you observe that the colour of your period blood is watery red, then there are chances that you are dealing with some nutritional deficiency. In other cases of the heavy colour of your blood initially, and has only started to get lighter and lighter in a while, it could be a symptom of severe anemia. But a 2014 Finnish study revealed a confusing fact that iron deficiency might instead be caused by heavy menstrual bleeding. Under the study, 236 women with heavy periods were examined. In that study, it was found that 27% were iron deficient and 60% percent were severely anemic.
5. Greyish red colour of your period blood is accompanied by a very strong and unpleasant smell, and then there is a great chance that you are dealing with an infection, such as an STD/ STI. A sexually transmitted disease has the potential to turn your period blood from red to greyish red. When a pregnant women experiences greyish red period blood along with tiny lumps, there are chances of miscarriage. It is therefore recommended to immediately contact a doctor.
6. Bright, cranberry red colour of your period blood means that you have a healthy and regular period. There is nothing that you should worry about.
Mothers' sleep quality may influence Child's sleep