Vogue India has completed it's 10 years so on the occasion of its 10th anniversary the celebrations needed to be grand. To celebrate this grand occasion, Vogue released three covers for their October 2017 issue.
The covers feature celebes like Shah Rukh Khan, Priyanka Chopra, Anushka Sharma, Sonam Kapoor, Twinkle Khanna, Karan Johar, Padma Lakshmi, Natalia Vodianova, Mithali Raj and Nita Ambani.
Kajal Aggarwal to play Kangana Ranaut's 'Queen' role in Tamil version!
Shah Rukh Khan always makes his actresses comfortable when he works with them. SRK is the absolute eye candy when talking about women achievers.
Recently Shahrukh Khan cheered for women achievers on the cover of a fashion magazine 'Vogue'.
After making the Starr studded appearance at the Vogue Awards held in Mumbai recently, 'Vogue' fashion magazine celebrated a decade long success with a striking 10th-anniversary issue of it which features all the A-listed personalities of in and outside of Bollywood.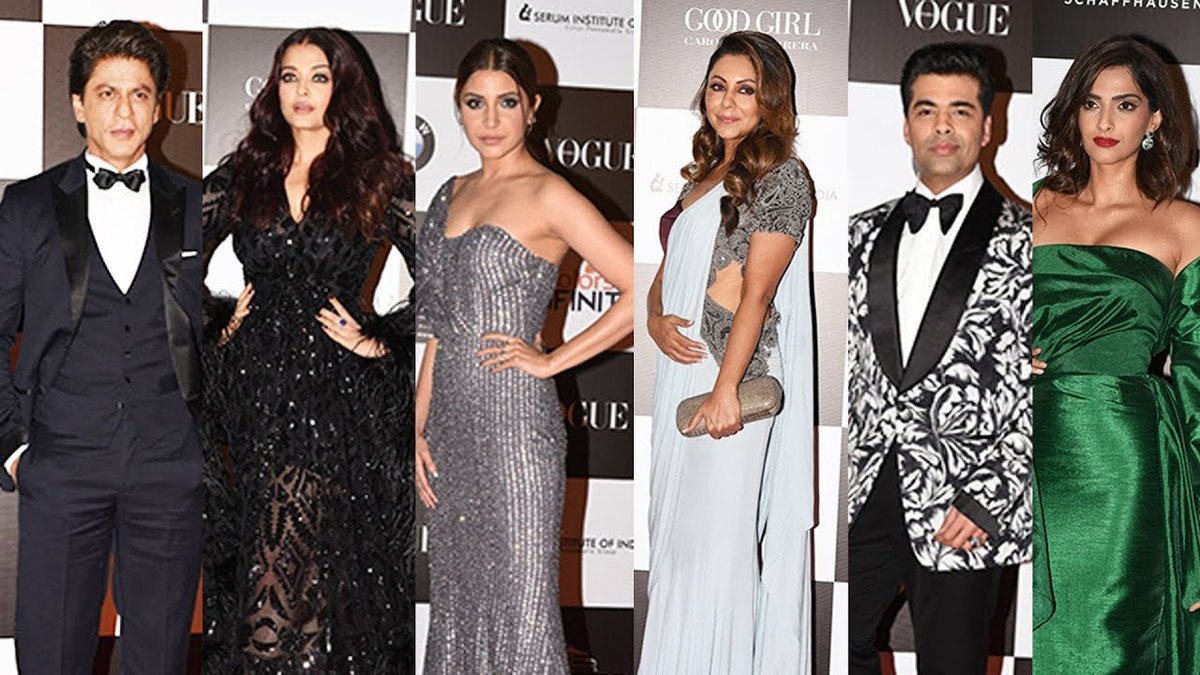 The cover photos are Tagged as Women of the year special edition and it features Shah Rukh Khan along with Nita Ambani and Indian Women's cricket team captain Mithali Raj to Priyanka Chopra, Anushka Sharma, Karan Johar, Sonam Kapoor, Twinkle Khanna and so on. As we have told you earlier all these pictures are anniversary cover edition.
The 'Delhi 6' actress, Sonam Kapoor took to Instagram to share the Vogue 'Anniversary edition'covers featuring the achievers. She captained the picture of SRK, Mithali and Neeta Ambani as "A perfect 10! What achievers! It's a perfect ten! "
Sonam Kapoor was also seen in the picture with 'Her fav people' from the fraternity. She wrote on her Instagram, It's a perfect 10 for @vogueindia what an awesome experience shooting with my fav people in the industry! Twinkle Khanna (@twinklerkhanna) Anushka Sharma (@anushkasharma1588) and Karan Johar (@karanjohar) "
Priyanka Chopra too slayed on the 'Vogue' cover with her global friends in a 'True Diva' style. Sonam share her Vogue cover and wrote, "A perfect 10 for @vogueindia ! Happy birthday guys!Padma Lakshmi (@padmalakshmi) Priyanka Chopra (@priyankachopra) and Natalia Vodianova (@natasupernova)"
Priyanka Chopra's disappointment over Newton's entry to Oscars?
All the stars are spelling the magic in Black on the cover picture. See the Vogue cover pictures for the 'Anniversary Edition' and you will surely admire them.