Dressing up traditionally is in the blood of Indian woman, all we need is just one occasion and we are all set to flaunt ourselves in sarees and lehengas. It's a dream of every woman to look her best on their wedding day. Whether you are a bride or a bridesmaid, if you are wearing a saree or a lehenga for the wedding, the blouse design is equally important as the rest of your outfit. Even blouse design also, the blouse sleeves can make hell of a difference in the overall look. Now it's in trend of keeping it traditional but with a touch of modernity.
Priyanka Chopra's Love for Thigh Slit Outfits
These days there are so many different styles of blouse sleeves designs are trending. You can now avoid the regular style sleeves and switch to the latest ones.
Here we are sharing the latest blouse sleeves designs with you, so that you can choose the best one for yourself and for your friend to look like one fashion updated Bride or bridesmaid on your D-Day.
1. Cold shoulder blouses
Cold shoulder is something we are seeing in the trends form last few months. You can see this kind of design in tops as well as shirts and blouses. Whether you are wearing a lehenga or a saree, the cold shoulder blouse will look good on both. Cold shoulder saree blouse with Kanjeevaram saree or traditional Banarsi or Nauvari saree will add a bit of contemporary charm to the traditional outfit.
2. Elbow length sleeves blouse
It's high time when you can switch to elbow length sleeves blouse designs. If you have thick arms or thin arms, elbow blouse designs will work in both the cases. Earlier brides or bridesmaid with thick arms used to feel awkward with cape sleeves or short length sleeve and hence they used to prefer elbow length as a safe option. Now the elbow sleeves blouses are highly in trend, whether you have thin or thick arms it doesn't matters. You have all the right to flaunt it in a right way.
3. Thin Strap Blouse
With thin strap blouses approaching an all-time high, we can assure you that this trend is everything. You can rock a normal south Indian or cotton saree by teaming up with thin strip blouse. Kangana aced her Indian appearance through this look. This looks make you look royal with basic ensemble.
4. Floral Print Blouses
Floral prints are the latest trending Bollywood blouse designs with actresses like Deepika Padukone, Madhuri Dixit, Trishha, etc., wearing it with great enthusiasm. The floral blouse design can be paired up with plain Georgette or chiffon saree to create an adorable look.
5. Cape Blouse Designs
Again this blouse pattern is also such which goes well with both saree as well as lehenga. In the last few fashion shows, many designers showcased their sarees and lehenga which they teamed up with cape blouse designs, for cape look with lehenga then you have two options, one is either you can get the blouse sleeves stitched in cape style or you can add an extra cape above the blouse.
6. Net sleeves design blouse
Net based sleeves transparent blouses are becoming quite popular particularly because of the trendy look they add to the lehanga or saree. Net blouses with sheer sleeves, works as good pick for a variety of parties and occasions. There are a wide range of variations in these blouse designs and you can easily pick one according to your choice.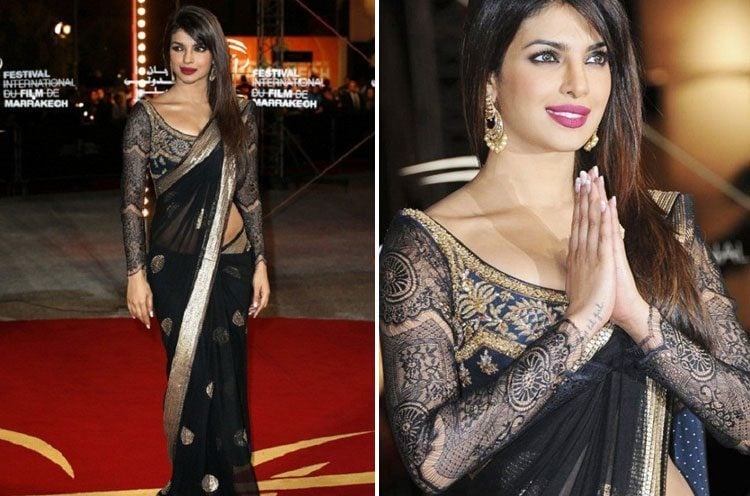 7. Brocade Blouse Designs
For the festive season, Brocade blouse designs are something that you must try. The self printed brocade saree blouses are simple yet it looks Royal in itself. these textured saree blouses looks good with Kanjeevaram and Banarasi silk sarees. But you can experiment it according to the trend.
Gorgeous Ideas of Minimal Bridal Jewellery for upcoming wedding season