Srinagar: A sniper attack was held by Pak soldiers across the Line of Control (LoC) on Thursday in Kupwara district of Jammu and Kashmir that takes the lives of an Army jawan and injuring three others.
Haryana government ultimately endeavours CBI investigation into Pradyuman Case
As per the Army officials, the Indian soldiers were allegedly attacked by Pakistani soldiers in Kupwara at  'Pimple Post' in Keran sector. Nearly four jawans of 5/9 GR unit of the Indian Army got wounded.
After the attack, they were taken to the Army's 92-Base Hospital at Badami Bagh Cantonment to undergo treatment. One of the jawan found as Rajesh Khatri, lost his live on onset. The reports affirmed that the situation of another soldier is serious.
A defence representative in Srinagar affirmed that the "gratuitous step" by the Pakistani army in infringement of the November 2003 truce deal taking the lives of one jawan and injuring three others stir up "essential and plenty" reaction from the Indian army.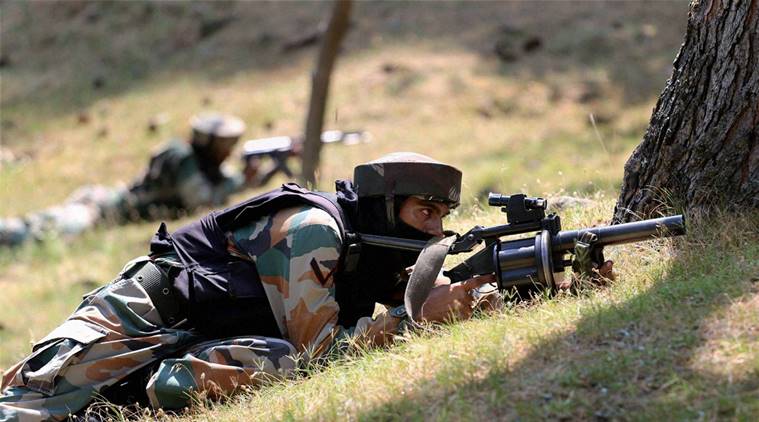 Though, it is not yet clear whether the Pakistani army faced any fatalities in the Indian "punitory step."
A Border Security Force (BSF) constable Bijender Bahadur lost his live on September 15 in the gunfire along the International Border (IB) in Arnia sector by Pakistan Troops.
Prior the LoC in neighbouring Poonch and Rajouri districts faced frequent truce infringement by the Pakistan army for several days. On Thursday, Indian officials affirmed that two Pakistani soldiers lost their lives in castigatory action by the Border Security Force prior during the day.
They affirmed that the soldiers attacked following three Indian jawans were wounded in "gratuitous" gunfire by Pakistani army along the International Border and the Line of Control on September 14 in Jammu and Poonch districts.
Extensive torrential rain hits Mumbai!
While, Pakistan has asserted that there have over 700 armistice breach were held by the Indian army in year 2017. Nearly 32 civilians lost their lives along the line of control.