Kabbadi Team Jaipur Pink Panthers defeated U Mumba by 36-32 score in the Pro Kabaddi Season 5 tournament on Saturday. Players Jasvir Singh (9) and Manjeet Chhillar (6) clinched 15 points.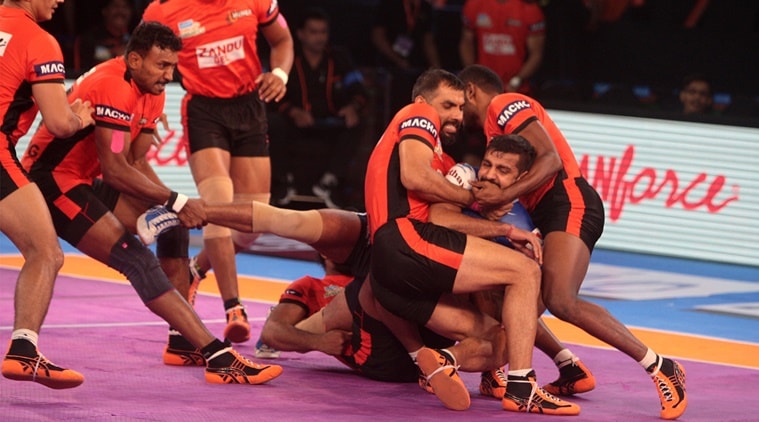 Gujarat Fortunegiants thrashes Jaipur Pink Panthers in Pro Kabaddi League
In the second half of match, U Mumba couldn't able to show their great performance but player Kashiling Adake scored seven points while Anup Kumar clinched six.
Currently, U Mumba team lies on fourth position with 55 points from 20 matches in Zone A. On the other hand,  Jaipur Pink Panthers has 50 points from 17 matches and it is on fifth position in the tally table.
After three minutes of match, Jaipur Pink Panthers took a lead of 4-1 against the opponent player. On the other hand, U Mumba clinched 5 score after five minutes. Player Manjeet Chhillar of Jaipur Pink Panthers took three-points that helped the team to take a lead of 10-7 in the ninth minute of tournament.  U Mumba player Kashiling Adake took two continuous raids as they scored 11-10 score following 12 minutes.
In the 13th minute of game, team U Mumba took a lead of 16-10 against the opponent team. Later, Jaipur Pink Panthers achieved five points at the end of the first half. Player Manjeet Chhillar got a high five in the first half for Jaipur Pink Panthers.
Jaipur began the second half strongly as they inflicted an all out in the 22nd minute to lead 20-16. U Mumba were struggling to get points on board as in the first seven minutes of the second half Jaipur scored 12 points compared to U Mumba's 4. Jasvir Singh got another raid point in the 28th minute as Jaipur Pink Panthers led 28-20. Jaipur inflicted another all out in the next minute to lead 31-21. In the 33rd minute of game, Shrikant Jadhav clinched a raid point against the opponent team to score 24-32 over U Mumba.
Indian Bowler Bhuvneshwar Kumar engaged to Nupur Nagar!
Jaipur Pink Panthers Player Manjeet Chhilar received one more tackle point in the 38th minute of game against U Mumba.