Situated at a distance of 10 km only from Chandigarh and being an important part of the Haryana district of Haryana, 'Panchkula' is well known for its lush green environment. It also showcases the dense forest region of Haryana. A large number of tourists attracts towards this city. The beautiful mountain ranges, ancient water canals and caters to the water are the few scenic views here. Also, the tourists can enjoy the beautiful range of Shivaliks, ancient temples and densely covered forests to an extremely pleasant weather. Other than the above-mentioned factors, Panchkula
 is also popular for its theme based clubs and lavish food joints. This tourist destination will force you to visit once in a lifetime. Here are the 5 topmost places to include in your list.
Best Road Trips to explore in United Kingdom
1. Mansa Devi Temple
This is one of the ancient Hindu temples which is situated in the interiors of Shivalik mountain range. About 210 years old, Mansa Devi Temple is a major center of Himalayan faith in the entire region of Northern India. The complex of this temple is divided into two compounds. It is a beautiful example of Hindu and Mughal architecture. Maharaja of Panchkula used this place for worshipping during the 1800s. There are two annual fairs for the devotees in the temple is the most important devotional center in Panchkula. It is done during the festival of Navaratri and receives an unprecedented number of visitors during this period. 
2. Cactus Garden
The reason to establish this garden was to conserve the endangered cactus species. There are around 2600 species of cactus and succulents of Mexican and Arizonian countries. Cactus fair is one of the attractions of this place, which is organized here during the month of March every year. Those who love flora must visit this place.
3. Chattbir Zoo
As it is one of the largest animal reserves in Northern India, thus Chattbir Zoo preserves around 110 varieties of animals and reptiles. Spread across a vast area of 500 hectares, this zoo is situated next to the Ghagghar River. Species like macaques, horn antelopes, and white tiger are the few important attractions of this place. Chattbir Zoo is a good for nature and wildlife enthusiasts. You can also go on Lion Safari.
7 Topmost tourist spots to visit in Wayanad
4. Pinjore
This place is situated at a distance of around 10 km from Panchkula. Rich in its culture and history, Pinjore, was built by Mughal prince Fidaayi Khan. It is a combination of the most beautiful remains of Rajasthani and Mughal architecture. Three of the most breath-taking places of the town of Pinjore are Rang Mahal (palace of colors), Sheesh Mahal (the Palace of the mirror) and Jal Mahal (the palace of water). Other than these, Pinjore also has various ancient temples and is a major tourist destination.
5. Gurudwara Nada Sahib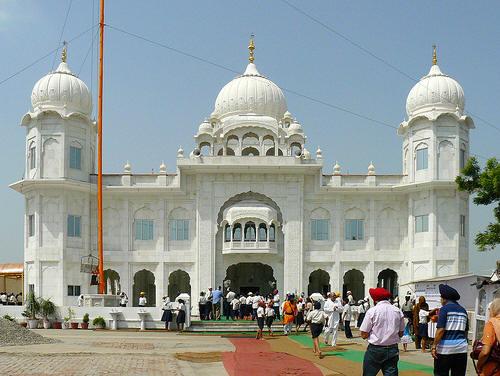 Nada Sahib Gurudwara is situated at a distance of 5 km from the capital city of Chandigarh. It is one of the most prominent centers of Sikh devotees in Northern India. This Gurudwara was established in the memory of Shri Guru Gobind Singh Ji is situated alongside Ghagghar River. During the war waged by Sikhs against the Mughals, the army of Guru Gobind Singh Ji used to stay in this gurudwara and it is because of this fact that this place holds a tremendous value among the Sikhs. Puranmaasi is a perfect to visit this place. 
Include the above-given places in your itinerary to get the most amazing experience of Panchkula.