Ingredients Of Hyderabadi Baingan-
500 gm small brinjal
1/2 tsp cumin seeds
1/2 tsp fenugreek seeds
10-12 curry leaves
1/2 tsp turmeric
1/2 tsp red chilli powder
Ingredients for the gravy-
1 tsp cumin seeds
2 tsp coriander seeds
1 tsp sesame seeds
1/4 cup peanuts and 1/4 cup onion – roast them together and grind to a powder
1 Tbsp tamarind pulp
Green chillies – to taste
1 Tbsp coriander
Oil
Salt to taste
How to Make Hyderabadi Baingan-
Cut the brinjal into quarter with the stems and then soak in salt water.
2. Heat oil and fry cumin seeds, fenugreek seeds, sesame seeds, curry leaves, turmeric powder and red chilli powder.
3. Add drained brinjal and fry in the masala for about ten minutes.
Fruit Lassi Recipe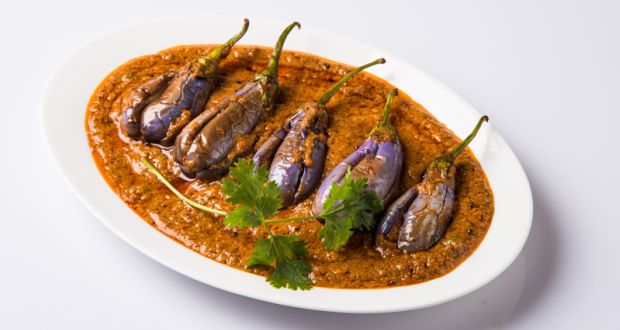 For gravy-
Heat the remaining oil. Now, fry the ground masala for about three minutes.
2. Then add the tamarind pulp, green chillies and fresh coriander leaves and simmer.
3. Finally, add brinjals in to the gravy & simmer for 10 minutes.
4. Serve with chapati and rice.