The hero of India's military history, Marshal Arjan Singh suffered a massive cardiac arrest in the early morning of September 16.
After which he was rushed to Delhi's Army Research and Referral Hospital but unfortunately he couldn't survive and died in the Saturday evening at the age of 98.
The fighter pilot was awarded the Padma Vibhushan- The second highest civilian honor for his excellent leadership in 1965 Indo-Pak war where he fearlessly commanded the Air Force at a young age of 44. 
India's oldest serving soldier was the only officer of IAF to achieve the highest post of Marshall, five-star rank on the Republic Day in 2002 which is equal to a Field Marshal in the Army.
Happy 67th Birthday: PM Narendra Modi to inaugrate Sardar Sarovar Dam…
He had flown 60 different types of aircraft from pre-World War II era biplanes to the more advanced Gnats and Vampires as well as transport aircraft like the Super Constellation.
He had a deep knowledge about the Airpower which he applied in a number of air operations and also contributed in globally transforming the IAF into 4th biggest powerful Air Force in the world.
Singh was awarded the Distinguished Flying Cross in 1944 Arakan Campaign for his role in successfully leading the squadron in combat.
The first Air Chief Marshal of the Indian Air Force retired in July 1969 and accepted ambassadorship to Switzerland.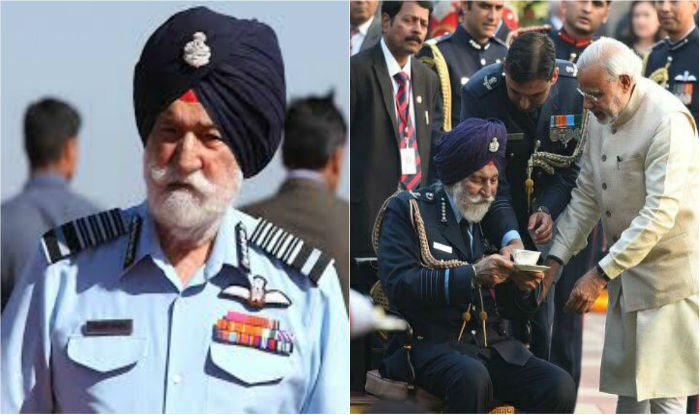 He has received a number of honors throughout his journey in recognition to his services for the nation.
President Ram Nath Kovind, Prime Minister Narendra Modi, BJP president Amit Shah, Union ministers Rajnath Singh, Arun Jaitley and Ravi Shankar Prasad and Congress chief spokesperson Randeep Surjewala paid glowing tribute and deep condolences to the Late great air warrior, Arjan Singh.