Actor Saif Ali Khan turned 46 today!
Saif Ali Khan stepped into the Bollywood industry in year 1992 with movie Parampara. He was seen in super hit movies Dil Chahta Hai, Hum Tum, Omkara, Kal Ho Na Ho, Love Aj Kal, Arakshan and many others.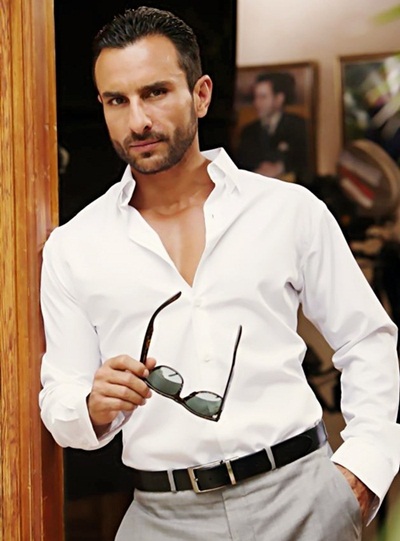 In October 1991, Saif Ali Khan married Bollywood actress, Amrita Singh and has two children, namely daughter Sara Ali Khan, and son Ibrahim Ali Khan. The marriage ended in a divorce during 2004, and both the children live with their mother.
He has received several awards as well as numerous nominations. He owns the production company 'Illuminati Films'.
Akshay Kumar's "Crack" First Look Out
Saif Ali Khan celebrated his birthday with his son Ibrahim. Many other Bollywood Celebrities were also present at the party including Karisma Kapoor, Soha Ali Khan, Kunal Khemu, Saif's mother Sharmila Tagore.
Some Facts about Him:
1. Kareena isn't his lucky charm
After his debut in the early nineties, Saif's only runaway hits were Main Khiladi Tu Anari and Yeh Dilagi where Akshay Kumar was his co-star. Saif should've stuck with Akshay for a few years longer, don't you think?
The actor's career took a downturn till Farhan Akhtar's Dil Chahta Hai happened.
2. He rejected Sameer
Dil Chahta Hai won a whole lot of awards and marked Saif's coming of age as an actor but when the role was offered to him, he initially rejected it. He required a whole lot of convincing from senior actors before he actually decided to go through with it. Might we add, best decision ever!
3. He wasn't the first choice for Shekhar
Saif wasn't the first choice for the lead role in the award winning film, Parineeta. Prior to the shoot of the film, the producer wasn't entirely convinced that Saif could perform in the role. Post the release and success of Parineeta, Vidhu Vinod Chopra collaborated with Saif for 'Eklavya: The Royal Guard'.
4. He wasn't supposed to play Langda Tyagi either
There were many contenders for the role of Langda Tyagi in Omkara, including Aamir Khan. Saif's audition blew Vishal Bharadwaj away and the rest as they say is history.
5. He wasn't going to play Rohit Patel
Saif wasn't the first choice for the role of Rohit Patel in Kal Ho Na Ho. Abhishek Bachchan and Vivek Oberoi were considered for the role before it was offered to Saif. He won the Filmfare Award for Best Supporting Actor for this role.
6. The Swiss Controversy
After his divorce, Saif dated Swiss model, Rosa Catalano, for over three years. However, the model then revealed that Saif didn't tell her about his previous marriage and children and she only learnt of this information when she came to India.
7. Nawab in the day, spoilt brat by night
From his infamous blackbuck poaching case to the brawl and assault in a upscale restaurant, Saif has a lot of explaining to do. In fact, he was also involved in an assault on a photographer while shooting Love Aaj Kal. Saif is also alledgedly involved in illegally procuring a high-end car through Hawala. Looks like Kareena really does like bad boys.