The government is all set to begin the Ahmedabad-Mumbai bullet train on August 15 by 2022 to celebrate the 75th year of India's Independence.
Rupee down 7 paise to Rs 64.00 against US Dollar
On Tuesday, the bullet train project representative affirmed that as the time limit to unveil the train will remain 2023, Indian railways is planning to begin it taking into account the Independence Day commemorations in 2022.
As per Railway Minister Piyush Goyal the planned date of commencing the bullet train is 2023.
"Prime Minister Narendra Modi hopes that Indian engineers have the potential and our workers have the effectiveness to finish  it a year prior," he affirmed.
"When the Prime Minister lays the foundation stone for the venture on September 14, it will also mark the starting of the project," Goyal affirmed.
Indian Railways has implemented Rs 1,10,000 crore on the 508-km-long Mumbai-Ahmedabad High Speed rail Project.
As per the reports, Among Rs 1,10,000 crore, Japan is providing a loan of Rs 88,000 crore. The railways will give a interest of just 0.1 per cent on this loan.
Piyush Goyal affirmed that that the latest railway project is likely to give 12-15 lakh jobs to the unemployed people.  More than 20,000 in construction and 4,000 direct jobs for operating the system.
"I think for such low expenditure we are not only getting this huge system, but also modern technology which will provide lakhs of jobs in India. With this technology, industry will get a big boost.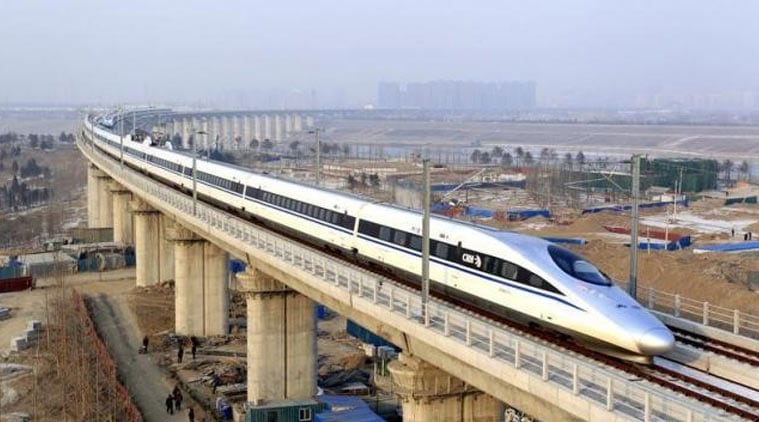 "Then eventually, India will make cheaper bullet trains and export it to the world. So going ahead, India will be part of the international standards in transport technology," he added.
The bullet train will stop at  Thane, Virar, Boisar, Vapi, Bilimora, Surat, Bharuch, Vadodara, Anand as well as Sabarmati.
The passenger will have to cover the distance of 2 hours and 58 minutes. It will stop at Surat and Vadodara.
Work on bullet train to start on September 14: Railway Minister Piyush Goyal
The average speed of bullet train will be 320 km per hour while the maximum speed of train will be 350 km per hour.