GORAKHPUR: At Least Sixty one children lost their lives due to the negligence in oxygen supply by the doctors and hospital authorities at the Baba Raghav Das (BRD) Medical College, Gorakhpur. The incident was held three weeks back.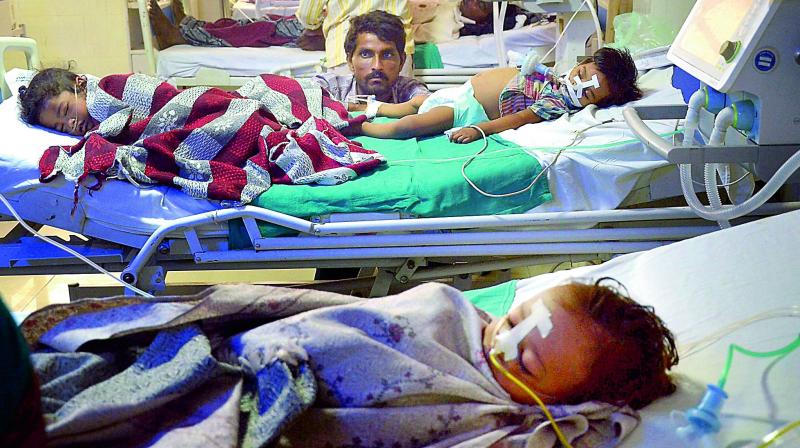 The death toll was noted to be 19 in 24 hours. Among them, four died due to encephalitis. Many other children died at the neo-natal intensive care unit (NICU) of the hospital.
Dr PK Singh stated, nearly six and 10 children died on August 27 and 28 respectively when the doctors were giving them medical facilities at the neo-natal Intensive Care Unit (NICU).
BRD hospital is known to be the top hospital of Gorakhpur. Every day it notices hundreds of patients coming from Bihar, Uttar Pradesh as well as Nepal.
The doctors associated with the encephalitis ward affirmed, Situation are likely to get poorer due to monsoon and floods in Gorakhpur. "We get patients from eastern Uttar Pradesh, Nepal and Bihar — states that are reeling under the effects of flood leading to a jump in the number of children coming to the hospital," he affirmed.
The data reveals that nearly 1,250 patients lost their lives from January till August 28, 2017 in the encephalitis and the NICU ward. Such incidents occurred as the hospital doesn't involve proper medical facilities.
The UP Special Task force detained ex principal of BRD Medical College Dr Rajeev Mishra and his wife Dr Purnima Shukla on Tuesday from Kanpur in link with the killing of children amid August 7 and 11.
The police officials have lodged cases against Dr Rajiv Mishra, Dr Kafeel Khan, Dr Purnima Shukla, Uday Pratap Sharma of Pushpa Sales and five more people. The incident at the Gorakhpur hospital had provoked a public protest. The investigation by the Principal Secretary revealed that the tragedy occurred due to lack of oxygen supply.