Ingredients
125 gms flour
1/2 Tbsp cinnamon powder
3/4 Tbsp ginger powder
100 gm honey
75 gm butter
60 ml thick yogurt
60 ml milk
1 large egg
1 Tbsp bicarbonate of soda
Decorate with fruits, nuts and whipped cream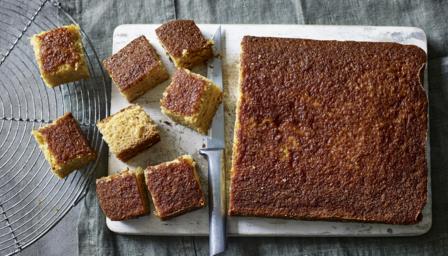 Steps to Make Ginger Sponge Cake
Sieve flour, cinnamon powder, ginger powder, bicarbonate soda together.
Warm butter and honey together. Add milk and yogurt when cool.
Add egg and stir to blend.
Mix together flour mix with the butter and honey mix.
Work it to a smooth batter.
Bake at 180 degrees C for 12-15 minutes or till firm.
Cool before decorating with whipped cream, fruits and nuts.
Singhare ke Atte ka Samosa Recipe
Serve
Source : NDTV