Hair loss problem has become so common among girls now a days. It occurs due to unhealthy lifestyle, consumption of irregular diet, pollution, excess use of shampoos as well as hair care products.
Try These Combinations of Coriander and See The Magic!
To get rid of it, you must try these tips :
Do Oiling :  Proper oiling on scalp is must as minimum as once in a week. Apply Coconut oil so that dirt which is present on your scalp can be reduced easily. This oil goes deep into the scalp and make it healthy. Coconut oil involves anti- bacterial properties that is beneficial in preventing hair from getting damaged. It is also very helpful in getting rid of scalp related infections.
Use Rosemary Lavender hair oil : This oil is very effectual in restraining hair fall and promoting healthy development of hair. Rosemary Lavendar Hair oil involves mixture of coconut, olive, amla, castor, jojoba as well as lavender oil that promotes hair growth and treats hair loss. It reinforces frail hair roots, removes split ends.
Never apply chemical shampoo. Pick organic shampoo that must involve beetroot extract or tamarind seeds. It will help to remove dirt from the scalp.
Use conditioner : Conditioner is very helpful in boosting the hair lock and promoting healthy hair. Pick a conditioner that must not provide any drawback to your scalp.  You can make use of Aqua, Beetroot extract, Keratin protein as well as Pro vitamin B5.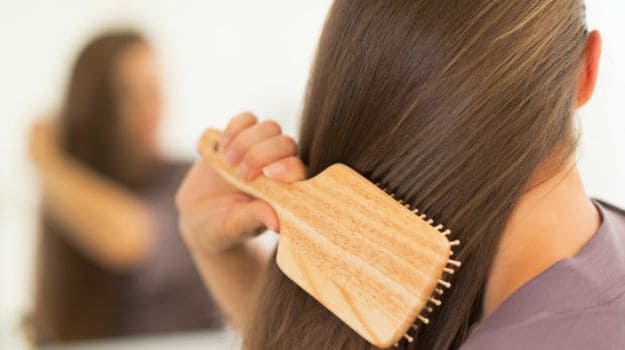 Choose Lukewarm water  : Lukewarm water is very helpful in making scalp clear and healthy. Say No to hot water as it can provide harm to your scalp.
Want to look Drop-Dead Gorgeous this Navratri 2017? Check these ideas!
Eat healthy diet: Take healthy diet as it is effective in getting rid of stress problem. You hair loss problem will automatically get reduced.  Consume balanced diet. Take diet full of protein to reduce hair loss problem.