Try these remedies in case you have grey hair or to prevent from grey hair.
1.Coconut oil and curry leaves-
To get rid of premature graying of hair, the combination of coconut oil and curry leaves can be proved as an excellent remedy.
Lifestyle Hacks to reduce Pimples!
For this home remedy, you will need 1/4 cup of curry leaves and 1/8 cup of coconut oil. Take the oil and the curry leaves in a saucepan and cook it until it starts boiling. Once it is boiled, take it off the flame and let it cool. Use this oil to massage your scalp and hair. Leave it for about 20 minutes and then wash it off with a gentle shampoo. Do not forget to condition your hair after shampooing.
2.Amla paste-
Amla or Indian gooseberry is one of the best home remedies for your hair problems. Regular use of amla in your hair care routine will help you to have beautiful, long, shiny hair. It is rich in antioxidants, vitamin C and other nutrients, and can prevent the premature graying of hair.
Take four to five amla and deseed them. Now, blend it to make a smooth paste. Apply this amla paste on your head and leave it for about half an hour. Use plain water to rinse off your hair.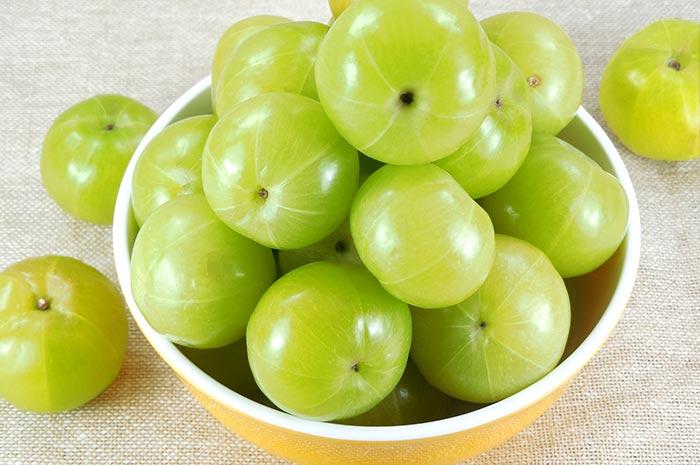 3.Carrot seed oil and sesame oil-
Carrot seed oil which is extracted from wild carrot has several health and beauty benefits. This oil makes your hair shiny and healthy. Whereas Sesame oil has hair darkening properties and will help you retain the natural color of your hair.
Take four table spoons of sesame oil in a dark colored bottle. Add in half a teaspoon of carrot seed oil. Now, shake the bottle to combine the oils. Use this oil to massage your scalp and hair. Leave the oil for about 20 minutes and then wash it off with a gentle shampoo and a conditioner. Keep the remaining oil in the bottle in a cool, dark place.
4.Black Tea-
Black tea will darken your hair and give it a pleasant shine. The tea will also make your hair soft.
Take a cup of water and boil it. Add two teaspoon of tea leaves in the boiling water. Now add in one teaspoon of salt in the solution. Let it come to room temperature and then use it to rinse your hair. Leave the solution in your hair for about 20 minutes and then wash off your hair with plain water. Do this twice a week.
Kapalbhati Pranayama, for a longer living
5) Fenugreek powder, Amla powder and lemon juice-
Fenugreek and amla solve the hair issues and make it healthy and strong.
Take two teaspoons of amla powder and two teaspoons of fenugreek powder. Add two tablespoons of water and one teaspoon of lemon juice. Mix well to make a paste and apply it on your head. Leave it for about 30 minutes and then rinse off with cold water. You do not have to use shampoo.