Navratra Special! Sabudana Vada Recipe
INGREDIENTS-
Coating
¼ cup caster sugar (superfine sugar) (55g)
2 tsp ground cinnamon
Churros
150g / 1 cup plain white flour (Note 1)
1 tsp baking powder
Pinch of salt
1 tbsp olive oil
250ml / 1 cup boiled water
2 cups+ oil, for frying
Chocolate Sauce
½ cup / 100g dark chocolate chips (Note 2)
½ cup / 125 ml thickened cream (heavy cream)
STEPS TO FOLLOW-
Make a mixture of sugar and cinnamon in a deep bowl.
Now make thick batter of flour, baking powder and salt in a bowl. Further add oil and water and mix to combine. The mixture should not be thin and watery.
Transfer dough into a piping bag with a 8mm / ⅓" star tip nozzle. Let it cool.
Now, fry in hot oil till it turn golden.
Pipe 15 cm / 6″ lengths of dough into the oil, snipping with scissors. Do 3 to 4 per batch.
Cook for 2-3 minutes or until golden. Keep rolling.
Remove onto paper towel lined plate to drain.
Then roll in sugar.
Serve hot with Chocolate Sauce!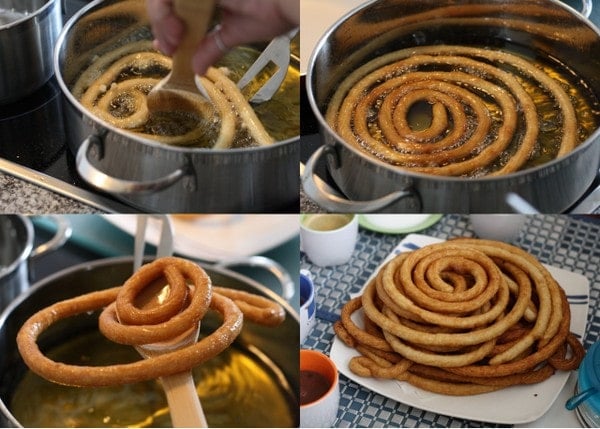 Chocolate Sauce-
Take chocolate pieces and put them into heatproof bowl.
Now, microwave it for about 30 second bursts. Keep stirring until it get smooth.