Tamale is a traditional Mesoamerican dish. It's dough is made of starch and usually corn, steamed in a corn husk or banana leaf. The outer covering of tamale is not to be eaten. The filling of this dish is done with meats, cheese, fruits, vegetables, chilies or anything according to taste. Both the filling and the cooking liquid may be seasoned. It takes 3 to 4 hours to get ready. The recipe of Tamale is given below.
Tamale Filling-
1 1/4 pounds pork loin
1 large onion, halved
1 clove garlic
4 dried California chile pods
2 cups water
1 1/2 teaspoons salt
Recipe of Moong Daal Samosa
Tamale Dough-
2 cups masa harina
1 (10.5 ounce) can beef broth
1 teaspoon baking powder
1/2 teaspoon salt
2/3 cup lard
1 (8 ounce) package dried corn husks
1 cup sour cream
Directions-
Use a dutch oven to place the pork with onion and garlic. Then, add some water to cover. Bring to a boil, then reduce heat to low and simmer until the meat is cooked through, about 2 hours.
2. Remove the seeds and stems from the chile pods with the help of gloves.  Place chiles in a saucepan with 2 cups of water. Uncover it for 20 minutes, then remove from heat to cool. Transfer the chiles and water to a blender and blend until smooth. Strain the mixture, stir in salt, and set aside. Shred the cooked meat and mix in one cup of the chile sauce.
3. Soak the corn husks in a bowl of warm water. In a large bowl, beat the lard with a tablespoon of the broth until fluffy. Combine the masa harina, baking powder and salt; stir into the lard mixture, adding more broth as necessary to form a spongy dough.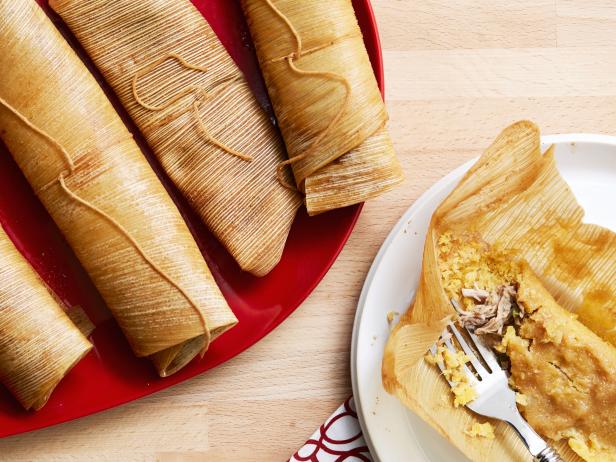 4. Spread the dough out over the corn husks to 1/4 to 1/2 inch thickness. Place one tablespoon of the meat filling into the center. Fold the sides of the husks in toward the center and place in a steamer. Steam for 1 hour.
Kachumbar Salad With Olive Bread Recipe
5. Remove tamales from husks and drizzle remaining chile sauce over. Top with sour cream. For a creamy sauce, mix sour cream into the chile sauce.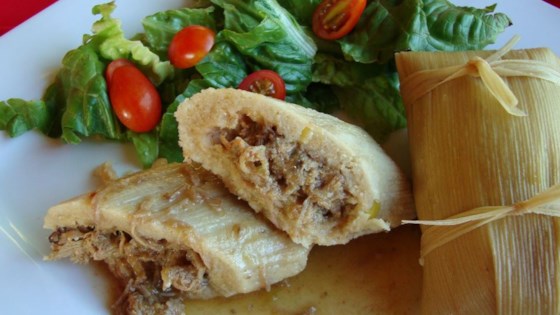 6. Garnish the dish and serve the dish in a plate with sauce or yogurt. Enjoy it with friends and family.