Fashion industry will take soon experience the most unique change. Not only in India, but in abroad as well, so many designers and brands are making an extra effort to promote green fashion. For fashion designers who now believe that eco-awareness is the need of the hour, do not need the options like a pattern of fabric woven with banana fibre, a roll of organic cotton, a collection of textiles washed in organic dyes. Nowadays, eco-fashion is a huge trend globally. In today time, several designers are working with environment-friendly fabrics or developing yarns that go into making them.
Looking beautiful without makeup is possible, we'll tell you how!
Environment friendly
Fashion designers in India have taken a similar path by making sure that fabrics and dyes they use can cause no harm to the environment. It started with recycling, organic food and cosmetics. No one would have thought green will come to fashion. The market of glamour and magnificence has decided finally that it is time to turn fashion into eco-fashion. With the world becoming increasingly eco-conscious this change is becoming necessary for the fashion industry.
Eco- friendly means utilizing organic fabrics such as silk, cotton, hemp, wool and tinsel besides soy or bamboo. These days global trend is towards saving nature. In the light of this awakening, the trend is changing in textiles from man-made materials to eco-friendly ones. The demand of the consumers is also changing from polyester and conventional cotton to eco-friendly garments.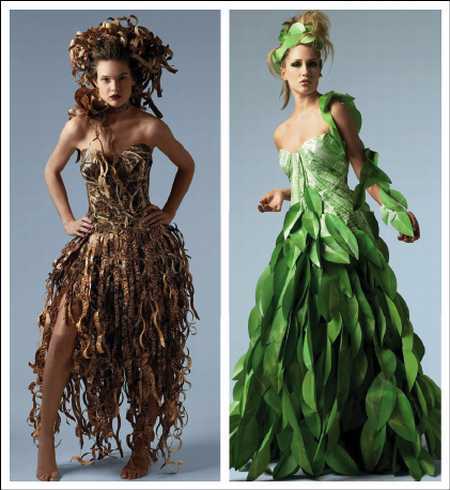 Organic clothing
You don't need to wear a baggy sack to pay honor to the environment. Now, you are bound to encounter organic clothing alongside its traditional counterparts without even the slightest hint of variance between the two. The pricing, with organic clothing fetching premium prices the only difference in leading stores. Catering to a society a-buzz with a renewed sense of environmental responsibility, organic textile manufacturers have entered a ripe marketplace hungry for new organics.
An interest in organic clothing is a natural next step on the heels of the organic health food revolution. For nearly two decades, the organic apparel movement has been attempting to emerge. A pioneer in organic textiles, jeans giant Levi Strauss unveiled Levi's Naturals in 1991. Organic premium jeans were created from naturally produced cotton and utilised all-natural dyes. Famous for perpetual innovation, Nike, a brand has played an instrumental role in increasing the demand for organic cotton worldwide, prompting fellow retailers to do the same.
Durability is guaranteed
As an easy way of reducing the overall carbon footprint of the production eco fashion has emerge process of making garments safer and at times more affordable for the average consumer. They are often made from reused and recycled textiles and don't involve the use of bleaches or harmful chemicals to colour fabrics. But most importantly, eco-friendly clothes are made to last, so that people can keep or wear them for longer.
Eco fashion is said to be the clothing made from mostly all organic materials. The style of clothing made from organic fabric material can range from outdoor apparel, active wear and sleepwear to the latest in haute couture.
Sustainable material is also an important element of eco fashion with organic materials,. If the material used in a garment is not organic, it can be sustainable material which means it's produced from a crop which can be replanted without damaging the eco system. Also the processing waste of these outfits is not damaging the environment.
The dyes used in the clothing also matter to eco-fashion. If the dyes used are heavy metal based, synthetic or dangerous to the earth, the clothing makers and the wearer, the organic materials can become less eco-friendly. Choosing clothing that is dyed with natural, healthy and plant-based dyes means less toxic exposure for the clothing makers, for the earth and less irritation for the consumer.
Hottest trend
Among many people there is a perception among that eco-friendly fashion translates into scratchy, shapeless and unattractive. But some incredible stylists from fashion industry are working hard to overcome that image and bring us great looks in eco-friendly materials. Eco-fashion is becoming a hot trend these days as more and more designers veer towards the use of environment-friendly and recyclable materials.
One of the hottest trends in the world of fashion is Eco-friendly or natural fibre clothing. It also called as sustainable fashion, because it is about making the clothes that take into account the health of consumers, the environment and the working conditions of people in the fashion universe. The recognition of the eco friendly lifestyle is easily expanding as people begin to comprehend the impact of these every day habits about the climate changes.
Want your foundation last longer? Apply these 5 hacks to see the results
The main focus is usually on the clothing-bamboo, stinging nettles, hemp, organic cotton, and many more. But eco-conscious fashion designers have many options in terms of sustainable accessories. Sustainable handbag comes in the form of reused leather, eco fabrics such as organic cotton, bamboo, and hemp, recycled sails, even candy wrappers. Footwear will be the excellent equalizer. The fabrics range from inner tubes, recycled tires, plastics, hemp, bamboo, and coconut to the only-added, reused carpet padding.