In this modern fashion era, Most of the girls and boys love to adopt latest fashion trends of celebrities including Alia Bhatt, Deepika Padukone, Priyanka Chopra, Kangana Ranaut or Sushmita Sen to look similar to them. And,, if we talk about tattoo, mostly youth are getting attracted towards it as it showcases a part of your personality. You can ink tattoo in a simple quote, symbol, illustration or even a  dot.  This article is about the tattoo designs that a girls can use :
Travel :
Girls who are interested in travelling  can express their love for it through a tattoo. It is quite meaningful and impressive that you will never be apologetic. You can write a word, symbol similar to aeroplane, make map.
One-Line/word tattoos :
Priyanka Chopra often show off her wrist tattoo that shows Daddy's lil girl while Alia's pataka tattoo on her nape is the one line or one word tattoos that is currently in trend and shows your personality.
Religious Tattoo
People who have keen interest in religion can make tattoos of spiritual including god. You can see tattoo of a Penelope Cruz on her right arm to get the idea about this tattoo.
Minimal Tattoo
It is one of the most short and simplest tattoo. You can make star, feather, heart, crown, paws to birds, butterfly, flower etc.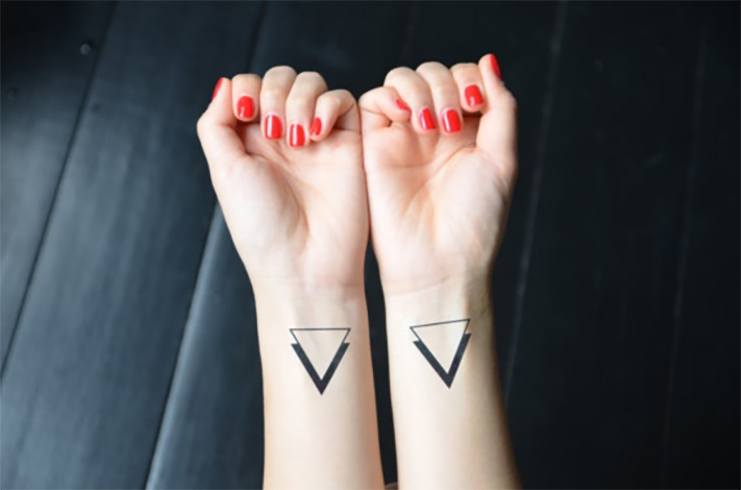 Language 
If you need example of how language tattoos is being made then you can see the tattoo of Sushmita Sen. She has inked "Aut viam inveniam aut faciam" in Latin on his wrist that symbolizes "I shall either find a way or make one." On the other hand, Angelina Jolie has inked Arabic script tattoo on her right arm that symbolizes "determination."