Ingredients:
1/2 cup hung curd (chaka dahi)
1 1/4 cups grated cottage paneer
1/2 cup fried onions
3 tbsp chopped cashew nuts
2 tbsp finely chopped coriander
5 tbsp bread crumbs
1 tsp chilli powder
1 tsp garam masala
2 tsp finely chopped green chillies
a pinch of sugar
Salt to taste
Bread crumbs for rolling
Oil for deep-frying
Method:
Mix all the ingredients well in a big bowl.
2. The mixture is to be divided into 8 equal portions. Also, shape each kebab into round portion of 50 mm. (2") diameter.3. Roll each kebab in bread crumbs so that the kebabs are evenly coated from both the sides.
3. Now, dip the kebab rolls in bread crumbs to make the kebabs evenly coated from both the sides.
Corn Muffins with Cheesy Yogurt Dip
4. After coating the kebabs with bread crumbs, deep fry the kebabs in oil poured into the non-sticky pan. Fry them until turn golden brown in colour from both the sides.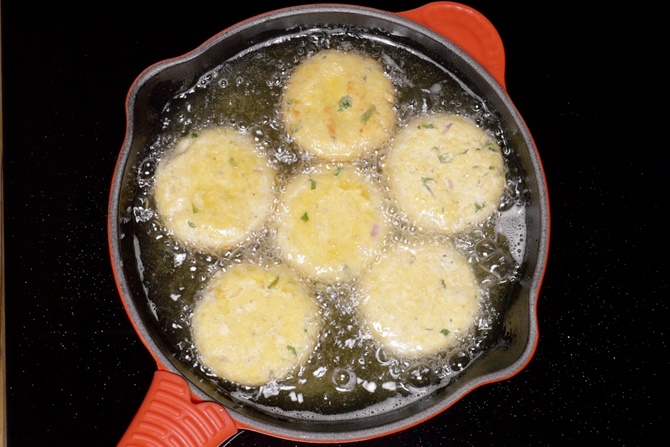 5. Put the fried kebabs on an absorbent paper.
6. Do the garnishing of the dish with coriander leaves.
7. Immediately serve the delicious kebabs with green chutney.