Ingredients:
Coconut scraped2 cups
Sugar 1 cup
Fresh cream 1/2 cup
Green cardamom powder a pinch
Powdered sugar 2 tablespoons
Ghee 1/2 tablespoon
Lemon Pickle Recipe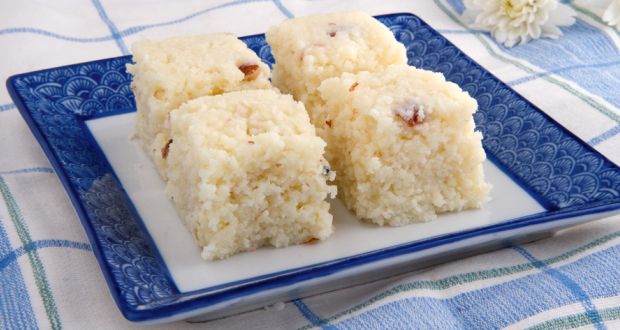 Method:
Heat a non stick pan on medium heat. Add the coconut, sugar, fresh cream and green cardamom powder and cook, stirring continuously, for fifteen minutes or till the mixtures turns a golden brown.
Remove from the heat and add the powdered sugar and mix. Grease a thali with ghee and pour in the coconut mixture and spread evenly.
When it cools cut into diamonds or squares and serve. You can store in an airtight container in the refrigerator for about a week.
Source: http://www.sanjeevkapoor.com/Recipe/Coconut-Burfi-Mithai-amp.html