Rajasthan's city of lakes, Udaipur, gives a tough competition Venice. With beautiful atmosphere, rich cultural background and amazing location, 'Udaipur' is said to be the 'Venice of the East'. The various palaces of this city represents the graceful architecture of the period of Rajputs. Here are top 10 places to visit in Udaipur, which you just cannot miss.
Amazing budget resorts to explore in Maldives
1. City Palace-
Situated on the banks of Pichola Lake, City Palace, was constructed in the year 1559 by Maharana Udai Mirza Singh. This palace is a beautiful combination of European, Medieval and Chinese styles of architecture. There are 11 splendid palaces which were constructed various rulers during various periods. the scenic views of this palace comprises marvelous courtyards, terraces, pavilions, hanging gardens and a lot more. The wall paintings as well as ancient paintings will take you to the old time.
2. Lake Pichola-
Lake pichola was created in 1362 AD, and Rana Udai Singh II extended the lake in 16th century. This beautiful lake is surrounded by huge hills, magnificent palaces, temples and bathing ghats. This island is a favorite spot of every tourist visiting Udaipur, thus boating is the attraction of this place. Boat cruise offers lovely views of the town especially the lovely sunset that light up the whole city.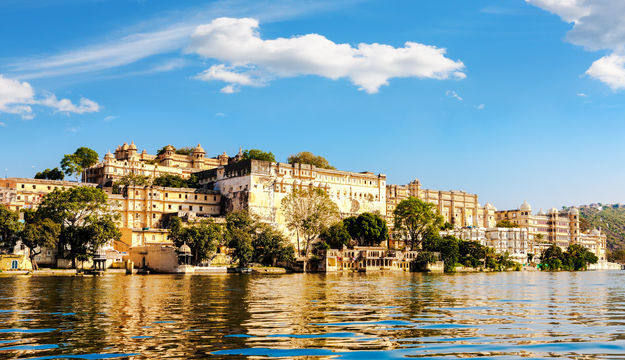 3. Lake Palace-
Lake palace is very famous as a wedding destination. Lake Palace is also known as Jag Niwas which is situated on the island of Jag Niwas in Lake Pichola. It was built by Maharana Jagat Singh II in the year 1746 which later on transformed into a luxury hotel in 1960s.  Lake Palace is now a part of Taj luxury resorts. It is not only a tourist destination but also been featured in several Hollywood and Bollywood movies.
4. Lake Garden Palace-
The architecture of Lake Garden Palace, also known as Jagmandir is inspired from Taj Mahal. This palace is said to be a symbol of friendship between Mughals and Rajputs. There is a long history behind this place which can delight any visitor.
5. Vintage Car Museum-
Inaugurated in the year 2005, the Royal Vintage Car Museum is a must visit spot for car lovers. There is a great collection of so many famous vintage cars like the 1934 Rolls-Royce Phantom used in the Bond film Octopussy and many more.
6. Saheliyo Ki Bari-
Saheliyo ki bari was a gift to the queen and her maids by Sangram Singh II. Saheliyon Ki Bari means Garden of Companions in english. This place was designed by the king himself as a relaxation spot so that queen could relax with her 48 maids. Nature lovers can add this place in their list.
7. Moti Magri-
Moti Magri was made as tribute to the Maharana Pratap and his beloved horse Chetak. The bronze statue of Maharana Pratap on his beloved horse Chetak is well famous. The place offers the view of Fateh Sagar alongwith the whole city, as it is situated on a hilltop.