New Delhi: The rates of petrol were increased by 10 paise per litre whereas diesel prices were raised by 6 paise per litre. The prices were valid from 1st October 2017 morning.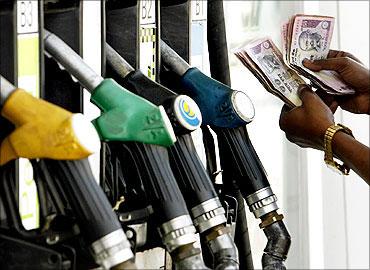 Check out state-wise petrol and diesel price of 30th September 2017
The price of petrol and diesel are modified everyday under the dynamic pricing scheme reliable with worldwide crude oil rates.
Three Oil Marketing Companies involving Bharat Petroleum Corporation, Indian Oil, and Hindustan Petroleum Corporation decided to alter the price of petrol and diesel everyday in India. They decided with an aim prior June to revise the petrol rates in India everyday. This conclusion was taken with planned commerce of domestic prices of petrol and diesel with global oil rates.
Total taxpayers grew at 6.26 crore in FY17 from 4.72 crore in FY13, says FM Arun Jaitley
Prior to employing the everyday alteration scheme in India, 3 oil marketing companies conducted 40-day check in five cities indulging Chandigarh, Puducherry, Jamshedpur, Udaipur and Visakhapatnam.
Prices of non-branded petrol in metro-cities
| | |
| --- | --- |
| Cities | (Rs/litre) |
| New Delhi | 70.76 |
| Kolkata | 73.50 |
| Mumbai | 79.87 |
| Chennai | 73.36 |
Prices of non-branded petrol across state capitals
| | |
| --- | --- |
| Agartala | 66.65 |
| Aizwal | 66.78 |
| Amabala | 70.31 |
| Bangalore | 71.87 |
| Bhopal | 77.18 |
| Bhubaneshwar | 69.63 |
| Chandigarh | 70.90 |
| Deharadun | 73.28 |
| Gandhinagar | 72.58 |
| Gangtok | 73.65 |
| Guwahati | 72.73 |
| Hyderabad | 74.93 |
| Imphal | 68.92 |
| Itnagar | 66.92 |
| Jaipur | 73.41 |
| Jammu | 72.41 |
| Jullunder | 75.80 |
| Kohima | 69.21 |
| Lucknow | 72.79 |
| Panjim | 65.18 |
| Patna | 74.09 |
| Pondicherry | 69.69 |
| Port Blair | 61.11 |
| Raipur | 71.27 |
| Ranchi | 71.95 |
| Shillong | 70.14 |
| Shimla | 71.44 |
| Srinagar | 75.08 |
| Trivandrum | 74.62 |
| Silvasa | 68.87 |
| Daman | 68.80 |
Prices of non-branded diesel in metro-cities
| | |
| --- | --- |
| Cities | (Rs/litre) |
| New Delhi | 58.92 |
| Kolkata | 61.58 |
| Mumbai | 62.59 |
| Chennai | 62.06 |
Prices of non-branded diesel across state capitals
| | |
| --- | --- |
| Agartala | 57.10 |
| Aizwal | 56.42 |
| Ambala | 58.83 |
| Bangalore | 59,03 |
| Bhopal | 65.39 |
| Bhubaneshwar | 63.18 |
| Chandigarh | 59.76 |
| Dehradun | 60.65 |
| Gandhinagar | 65.47 |
| Gangtok | 60.65 |
| Guwahati | 61.37 |
| Hyderabad | 63.43 |
| Imphal | 57.02 |
| Itanagar | 56.14 |
| Jaipur | 62.49 |
| Jammu | 59.00 |
| Jullunder | 58.94 |
| Kohima | 57.99 |
| Lucknow | 59.96 |
| Panjim | 59.90 |
| Patna | 62.59 |
| Pondicherry | 60.93 |
| Port Blair | 55.44 |
| Raipur | 63.70 |
| Ranchi | 62.31 |
| Shillong | 58.70 |
| Shimla | 59.11 |
| Srinagar | 62.15 |
| Trivandrum | 64.06 |
| Silvasa | 59.68 |
| Daman | 59.61 |