Astrology: Laughing Buddha is also known as Buddha of Happiness. Laughing Buddha depicts a stout, smiling or laughing bald man in robes with a largely exposed pot belly stomach, which represent happiness and good luck. Legend dictates that nothing would make this Buddha happier to see people problem transform into happiness.
Some sculpture has small children at his feet. Another item that is usually seen with the Laughing Buddha figure is a begging bowl to represent his Buddhist nature.
Many Feng Shui masters referred Laughing Buddha as the Buddha of Wealth. This is because of the image of the Laughing Buddha is believed to attract unlimited of prosperity and lucks.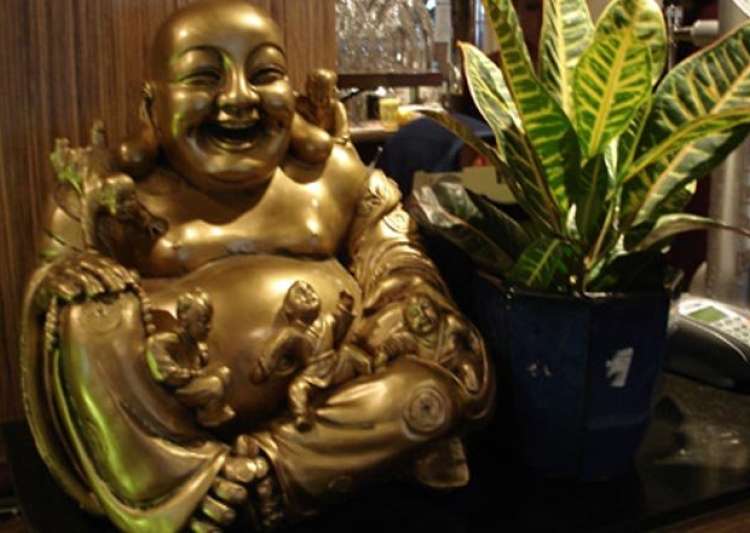 Placement of Laughing Buddha
Living room: Buddha is also quite comfortable in the living room. The best position for Buddha in the living room is facing the front door.
Main door: Many feng shui consultants recommend placing the Buddha opposite the main front door of a home on a table that is about thirty inches high. This location allows Buddha to interact with the chi energy entering your home. From this position, the statue can neutralize any negative chi, and transform it from damaging to very lucky energy.
On a desk: Students should place Buddha on their desks. This is a perfect location to enlist a little help with lessons and evoke Buddha auspicious energy for fulfilling your academic goals.
Office table or reception's desk: For those that own a business, placing Buddha on a reception's desk can help bring prosperity to your company.
Yoga room: If you practice yoga, then you have a special room or area of a room in your home devote to your exercise. This is an excellent place for a Buddha statue. Just be sure to place it eye level or higher.