Statement neck pieces are a big fashion symbol in today's time. These neck pieces always become the center of attraction point more than the outfit. There are so many options of neck pieces which makes it difficult to choose one from the rest. So, here is a list of various neck pieces options you can opt for, and look stylish.
Must Try Coffee Hacks For Skin!
V Neck Pendant Chains-
Girls with long necks can choose V Neck Pendant Chains. It will make your neck look slim and not too long. It is suggested especially for those girls with heavy busts. You can opt for either long chain or short chain pendants.
Scoop Necklines-
Scoop neck piece is the best option for thin girls as it make their shoulders look broad. They are very common and can be mix and match with any outfit. It's shape is like a deep curve neckline, which easily covers the neck or chest surface. Heavy neck pieces gives better effect to the neckline.
Collared Button-down Neckline-
These neck pieces look very cool with casuals, especially with shirts. You can turn your boring looking shirt into a fashionable one. Match a multi color neck piece with a plain shirt to give it a colorful and vibrant look.
Chokers for The Strapless-
Chokers are every girl's first choice because they are very light in weight. Also comes in a variety of choices. One of it's best match it with strapless dress. Choker is simple but can add an oomph factor to your outfit.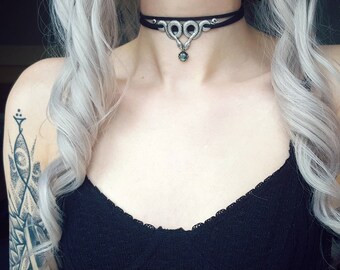 Cowl Neckline Need Pendants-
These kind of neck pieces look more attractive in winter rather than summer. It comes up with a big pendant but simple neck piece. Complete your look with this neck piece in the coming winters.
How to get rid of hair loss problem?
Thin Necklaces with High Neckline-
Again, these neck pieces are best options fir winters as the woolens does not hide Thin Necklaces. With warmth, this neck piece will add colors to your look. Pair a black high neck paired with a silver chained necklace.