Ingredients:
Button mushrooms stems removed 12-16 large
Saffron (kesar) a pinch
Mayonnaise 3 tablespoons
Onion finely chopped 1 medium
Green chillies finely chopped 1-2
Garlic cloves chopped 6-7
Salt to taste
Crushed black peppercorns to taste
Mozzarella cheese grated ¼ cup
Dried mixed herbs ½ teaspoon
Milk 4 teaspoons
Method:
Preheat oven to180°C.
Put onion, green chillies, half the garlic, salt, crushed peppercorns and mozzarella cheese in a bowl and mix well. Add herbs and mix again.
Stuff the mushrooms with this mixture and place them on a baking tray. Place the tray in the preheated oven and bake for 10-15 minutes.
Take mayonnaise in a bowl.
Heat milk in a small bowl in the microwave for 20-25 seconds. Remove from heat and add saffron. Mix well and set aside for 2-3 minutes so that the flavour gets infused.
Add remaining garlic, salt, crushed peppercorns to mayonnaise and mix well. Add saffron milk and mix well.
Place baked stuffed mushrooms on a serving platter and serve hot with saffron-mayo dip.
Source: http://www.sanjeevkapoor.com/Recipe/Baked-Stuffed-Mushrooms-with-Saffron-Mayo.html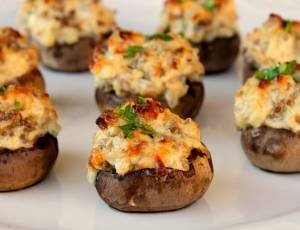 Quick n healthy recipe for Breakfast – Curd 'n' Mayo Sandwiches!