In Indian culture, Jewellery plays significant role among the girls as well as women. It is considered so important especially during the occasions. To look like a complete fashion queen, girls leave no chance to wear classy jewellery from the rest.
Apply this rice face pack to get glow on face!
Indian jewelry is also believed to be a matter of safety during economic crisis because of its great worth. Women love to wear gold, silver, diamonds and artificial jewellery as it represents supremacy, great rank and huge prosperity.
Trendy and stylish jewellery suits the best among girls during parties. It makes them look like a complete chic. Wearing neckpieces or cuffs makes the girl look like a perfect party queen.
One can wear ready-to-wear incompatible jewellery as per your thoughts and come up with something new.
Adorn Flitter Flutter Tassels
When we get confused about wearing the ornaments, then the chance of donning flitter flutter tassels comes. This type of jewellery looks so flittering and fluttering. Flitter Flutter Tassels are so much in trend now days. You can see this on handbags, shoes and even on earrings. It comes in varied form ranging from long, small etc.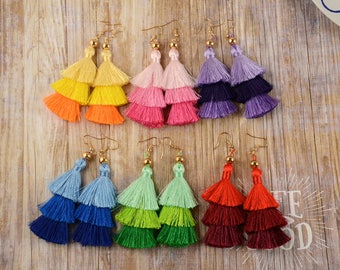 Trendy Jeans to make you easy and comfortable throughout the day!
Put on Cuffs
If you want to look like nineties heroine, then make sure you wear pop-punk ear candies to get a perfect look. Adorn trendy ear cuffs to look fashionable. Pick earcuffs during parties as it will give idealistic, informal and graceful look.