Narendra Modi to open Patna University centenary commemorations on 14th October
PM Narendra Modi is all set to commence the centenary commemorations of the important Patna University on 14th October. It is the seventh oldest university in India. On 1st October, Patna University will be finishing its wonderful 100 years.
Kashmir: One terrorist dead, security forces carries investigation in Uri sector
The sources revealed that Prime Minister Modi had already validated to launch the centenary commemorations of Patna University, but, the schedule for the occasion was not set. The event was being premeditated amid the University as well as the Prime Minister's Office.
Patna University had advanced four dates for PM's tour, after which a agreement has been arrive at on 14th October.
Although, Patna University's VC Raas Bihari Prasad Singh sought that the grand celebration should be held at the Science College, however because of security worry the venue is ready to be transferred to Gyan Bhawan.  After the confirmation from PM's Office, Patna University has started planning for the occasion.
Vice Chancellor Raas Bihari Prasad Singh will be going to Delhi on Sunday to conduct discussions with the PMO to decide the full agenda for the occasion.
In the mega event,  Prime Minister Modi, President Ramnath Kovind, Chief Minister Nitish Kumar will also take part.
J&K: 2 BSF personnel wounded in firing by Pakistani troops
"The visit of Prime Minister Modi at the centenary year celebration will be a historic moment and we have begin preparation for it. Many dignitaries are being invited for the celebration," Raas Bihari Prasad Singh, Vice Chancellor of Patna University asserted.
Another earthquake of magnitude 6.2 hit Mexico, five dead
MEXICO CITY: An earthquake of magnitude 6.2 hit Mexico on Saturday that triggered off fear among Mexico people. Nearly five people lost his lives in the moderate earthquake.
Turkey: Over 21 immigrants killed as fishing boat sinks in Black…
Over 400 people lost their lives in a seismic activity involving two strong earthquakes in Mexico.
On Tuesday, a strong earthquake of magnitude 7.1 hit the Mexico's capital. Several buildings got destroyed and nearly 307 people died. Before presidential polls 2018, the government's reaction to the tragedy is under close inspection.
The newest earthquake was not as vicious as the previous one. Two Horrified natives died due to heart attack, the city government asserted.
Worry that the tremor could lead to building fall down in the Tlalpan neighborhood of Mexico City.
The rescue operators recovered several dead bodies from the collapsed buildings. The people got shocked when another earthquake hit the city.
The United States Geological Survey stated the newest earthquake was comparatively low with an epicentre close to Juchitan.  An earthquake of 8.1 magnitude strike Oaxaca on 7 September.
On Saturday, three people lost lives in Oaxaca that involved a man who was hit by a group of feral bees, authorities affirmed.
Chinese social media bans "Islamophobic" terms
Mexico's seismological authorities affirmed Saturday's shake was an impact of that shake. It was the most powerful to strike Mexico in 85 years and 98 people died.
Jaipur: Karni Sena burn posters of "Padmavati", protest at Rajmandir cinema
Sanjay Leela Bhansali directed film 'Padmavati' posters were burn out in Jaipur soon after its release on Sunday.
Jaipur: 25-yr-old liquor salesman found murdered
The film was strongly opposed by Rajput Karani Sena people on Saturday. The protest was held at Rajmandir cinema situated at C-scheme area of Jaipur. Karani Sena people also slammed the posters of upcoming movie Padmavati, while sloganeering against Sanjay Leela Bhansali.
In Jaipur, Sanjay Leela Bhansali's film Padmavati came into controversy ever since it's shooting. Prior, Karni Sena people protested in Jaihgarh fort of Jaipur and even slapped the director.
Kota: 5-yr-old minor girl fell into water tank, died
Rajput Karani Sena people considers that Sanjay Leela Bhansali has showcased with the wrong history of the state in the film. The Karna army believes that Johri is seen as a symbol of female power and Sanjay Leela Bhansali has insulted Padmini's honor, honor and sacrifice.
Pro Kabaddi Season 5: Puneri Paltan beat Dabang Delhi by 34-29
Kabbadi team Puneri Paltan defeated Dabang Delhi by 34-29 in the Pro Kabaddi Season 5 tournament that took place on Saturday.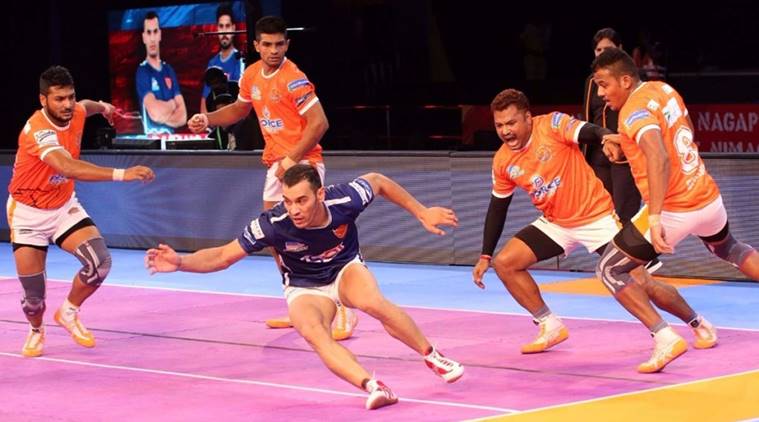 SAFF U-18 Championship 2017: India crushes host Bhutan by 3-0
Player Deepak Niwas Hooda clinched 10 points while two opponent players Girish Ernak and Monu received high fives. Dabang Delhi team faced their ninth crush of the campaign.
Puneri Paltan reached to the top spot in the table with the triumph. The team lies in third position with 47 points from 12 matches. Dabang Delhi team lies with 30 points from 13 matches.
Team Dabang Delhi took a lead of 4-1 following three minutes. On the other hand, Puneri Paltan clinched two points in a minute. In the 8th minute of game, Sandeep Narwal attained a raid point after Puneri Paltan team scored 6-8.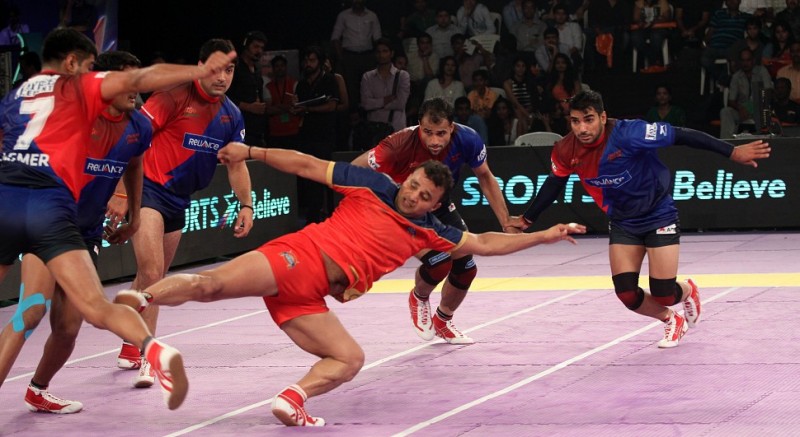 After 16 minutes, Dabang Delhi take a lead of 11-7 after they sustained a raid points. Player Meraj Sheykh achieved two points with a raid after Dabang Delhi scored 13-7 in the 18th minute of game. Team Dabang Delhi take a lead of 14-8 at the conclusion of the first half with Meraj Sheykh attaining five points.
Puneri Paltan started the second half with a great performance by clinching 11 points in 7 minutes to change the game. In the 22nd minute of game, the team took a lead of 13-1 following 22 minutes. In the 27th minute, Player Rajesh Mondal clinched four points with two raid points after Puneri Paltan took lead by 18-15.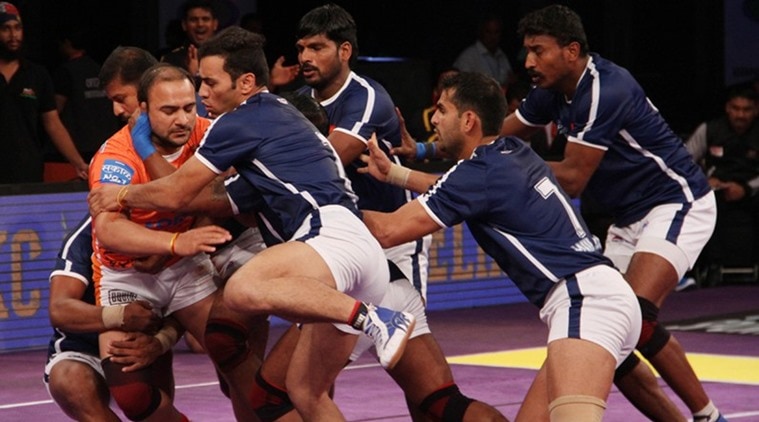 Pro Kabaddi League 2017: UP Yoddha thrashes Patna Pirates by 46-41
In the 40th minute of game, Dabang Delhi scored a tackle point to take a lead of five points. Delhi lost the game against Puneri Paltan by 34-29.
Nokia 8 smartphone 6GB RAM variant to unveil on October 20 in Germany
Finnish smartphone maker company Nokia is all set to unveil Nokia 8 handset in the market on October 20. The cellphone involves 6GB of RAM and 128GB of storage in Germany. The handset will involve price tag of €669. The handset will go on sale in "Polished Blue" colour variant.
Panasonic Toughbook CF-33 laptop unveiled in India
Talking about specifications of handset, Nokia 8 will support Qualcomm Snapdragon 835 chipset. The cellphone will include an octa-core Kryo 280 CPU. The handset will include frequency of 2.45GHz and Adreno 540 GPU.
The handset features 5.3-inch IPS LCD screen that comes with a pixel resolution of 2560. The cellphone has Corning Gorilla Glass 5 to protect the screen. The cellphone has 3,090mAh battery and involves Qualcomm Quick Charge 3.0.
Coming to its camera details, the handset has two 13-megapixel sensors rear camera, one comes with RGB shooter, on the other hand, another has monochrome sensor. On the front, the cellphone has 13-megapixel on the front. The smartphone runs on Android 7.1.1 Nougat.
Samsung's Bixby Voice Is available in India now!
Currently, Nokia 8 sporting 4GB of RAM and 64GB of internal storage is available in few markets.