With a city as filled with tourist attractions as Venice, it's hard to know where to begin. Perhaps the best way is to simply get lost for a few hours wandering through its enchanting little streets and passageways, strolling beside its canals, and finding its secret corners. At every turn, you'll see something worth remembering with a photo. No matter where this exploration takes you, it's easy to find your way back to Piazza San Marco and the Grand Canal. Most of the best sights you'll want to visit lie around these two landmarks. Beyond the six sestieri – neighborhoods — of the city itself, you'll want to hop aboard a vaporetto to its islands: Lido, Murano, Burano, and Torcello.
1 St. Mark's Basilica
Certainly Venice's best-known church, and one of the most easily recognized in the world, St. Mark's Basilica (Basilica di San Marco) was originally the Doge's private chapel, decorated with Byzantine art treasures that are part of the booty brought back by Venetian ships after the fall of Constantinople. The gold-backed mosaic pictures above the doorways on the façade only hint at the mosaic artistry inside, where 4,240 square meters of gold mosaics cover the domes and walls. These set a distinctly Byzantine tone to its soaring interior, but you'll find treasures from other periods, including later mosaics designed by Titian and Tintoretto – names you'll encounter all over the city. The magnificent golden altarpiece, the Pala d'Oro, one of the finest in Europe, was begun by early 12th-century artists, and centuries later, adorned with nearly 2,000 gems and precious stones. If you can tear your eyes from this, the mosaic domes, and the multitude of richly decorated altars, glance down at the floor, a masterpiece of marble inlay. And take time to see the gold reliquaries and icons in the Treasury.
2 St. Mark's Square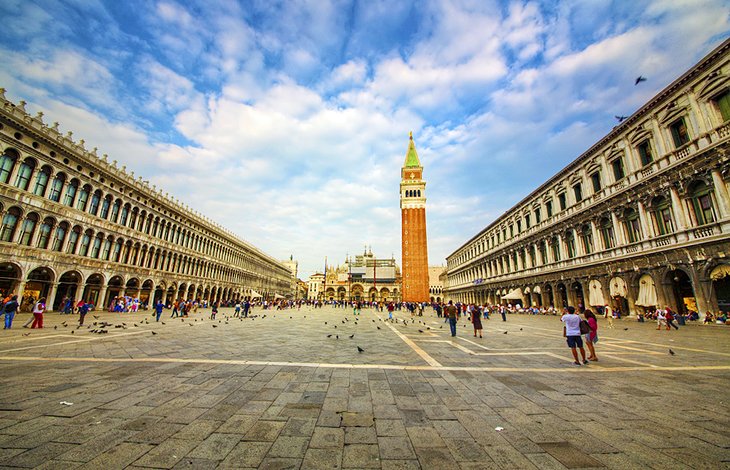 The vast expanse of Venice's largest square is brought together and made to seem almost intimate by the elegant uniformity of its architecture on three sides. But more than its architectural grace, St. Mark's Square (Piazza San Marco) is loved as Venice's living room, the place everybody gathers, strolls, drinks coffee, stops to chat, meets friends and tour guides, or just passes through on the way to work or play. Three sides are framed in arcades, beneath which are fashionable shops and even more fashionable cafés. The open end is bookmarked by the erratic, exotic curves, swirls, mosaics, and lacy stone filigree of St. Mark's Basilica. Above it towers the brick shaft of the campanile. For overviews of this busy piazza, you can go to its top or to the top of the Torre dell'Orologio, where a pair of "Moors" strikes the hour.